Clean 9 w/Forever Lite Ultra® Chocolate w/Aminotein - English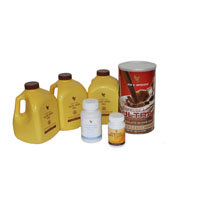 **New Product Mix**

The first step to a clean body is to cleanse and support your digestive system. Clean 9 provides you with the necessary tools to cleanse your body and put you on the path to a healthier you.


In the Clean 9 pak, you will find:


3 bottles of Aloe Vera Gel
1 can of Forever Lite Ultra® with Aminotein - Chocolate
1 bottle of Forever Garcinia Plus®
1 bottle of Forever Bee Pollen®
These statements have not been evaluated by the Food and Drug Administration. These products are not intended to diagnose, treat, cure, or prevent any disease.