Forever Natural Spring Water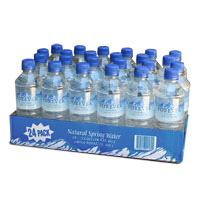 Item #

265
34.83 USD
16.9 fl. oz. - 24 per carton
Refresh and renew with Forever Natural Spring Water. Each bottle is 8 fluid ounces of pure, natural spring water bottled straight from the source of bubbling springs.

Unlike some bottled waters, Forever Natural Spring Water does not have to be transported for long distances to a bottling plant miles away. This helps insure the freshness and purity of our Natural Spring Water so it comes to you just like if came from the spring!

It's important to stay hydrated whether you are on the go or relaxing at home. Keep a bottle on hand at all times – your body will thank you!


Straight from the source of bubbling springs
Fresh and pure
These statements have not been evaluated by the Food and Drug Administration. These products are not intended to diagnose, treat, cure, or prevent any disease.
For more information on this product refer to the PDF downloads.
Forever Natural Spring Water